2012 Porsche Cayman Introduction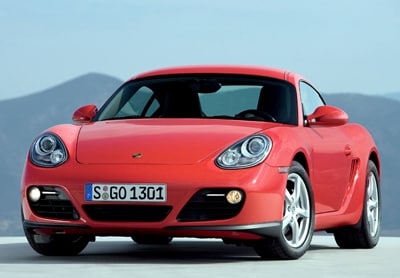 The Porsche Cayman is one of the best-looking sports cars on the market, and it's just as much fun to drive as it is to behold.
New for 2012 are two more powerful variants in the Cayman lineup: the bare-bones, race-inspired Cayman R and the luxe, feature-packed Cayman S Black Edition. Both use the same 3.4-liter flat-6 found in the Cayman S, tuned to make ten extra ponies for a total of 330 horsepower. The Cayman S Black Edition comes with an all-black color scheme, including black-painted wheels and exhaust pipes. It boasts an estimated 0-60 mph time of about 4.8 seconds and is limited to 500 units.
The 2012 Cayman and Cayman S carry over unchanged. The Cayman was launched as a 2006 model and revised with new engines, transmissions and suspensions for 2009.
The Cayman comes with a 265-horsepower 2.9-liter horizontally opposed six-cylinder engine. Cayman S features a 3.4-liter flat-6 with 320 hp and 273 pound-feet of torque. A 6-speed manual, our choice, is standard on both versions, while the superb PDK 7-speed double-clutch gearbox is optional.
Like all Porsche models, the interior and exterior options on the Cayman are configurable in thousands of combinations, so exclusivity with any one individual car is well within reach. Those choices add up, however, making individuality expensive.
The Cayman coupe is related to the Boxster convertible, and some will argue that the Cayman is merely a fixed-roof version of the Boxster. We disagree. The Cayman has its own feel and character. It can serve as a luxury grand-touring car for two with heated and ventilated leather seats, Bose sound system, and navigation system. But it's also a sports car with superb driving dynamics, wonderful sounds, and excellent driver involvement. Two cargo areas and fair gas mileage make for a decent daily driver, while adjustable suspension, advanced drivetrain, and racing-style brakes are well-suited for the track. And we think the Cayman is better looking than the Boxster, though we do love the Boxster and think it has a much better name.
The Cayman doesn't have a lot in the way of direct competition, though it can be compared with the Lotus Evora, the sedan-like BMW 1M, the aging Audi TT, and the much bigger Chevrolet Corvette.