2014 Porsche Boxster Introduction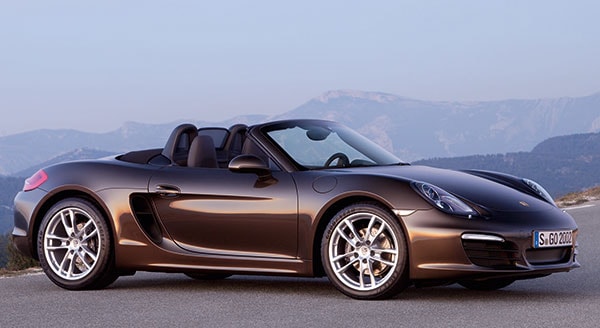 Redesigned for 2013, Porsche Boxster featured a lightweight new body with fresh styling and a completely revamped chassis, which rode on a longer wheelbase and a wider track with larger wheels. Nothing has changed for 2014, except for some new body-color choices and some new options: The 2014 Boxster is available with adaptive cruise control, Burmester audio, and a Premium Plus package.
Two six-cylinder engines are available: a 2.7-liter for Boxster and a 3.4-liter liter for Boxster S. Each is more powerful, yet more fuel-efficient, than the engine it replaced due to adoption of direct fuel injection and other technologies.
How far things have come since the original Porsche Boxster made its debut 15 years ago. Back then, it was one of an assortment of new German roadsters, along with the Mercedes-Benz SLK and the BMW Z3, aiming to carve out a niche above that most affordable of 2-seaters, the Mazda Miata. That first-generation Porsche was fun to drive and arguably the most sporty and competent of the Teutonic trio, but there was a massive gap between the Boxster and the classic 911. Each successive generation of the Boxster has gotten better and better, both in terms of looks and performance. And that's clearly the case with the 2013 redesign.
This latest version is more mature than the pre-2013 version. The roadster is a significant achievement that took what had long been the entry to the Porsche franchise and moved it up several notches. While it's by no means perfect, the current Boxster is good enough to give some Porsche aficionados reason to think twice before moving all the way up to the 911, at nearly twice the price.
The current Boxster is longer, slightly wider and a half-inch lower than pre-2013 models. It makes extensive use of lightweight materials, including magnesium and aluminum, which results in both a lower overall mass and a better center of gravity.
The 2.7-liter six-cylinder in the Boxster delivers 265 horsepower and ekes out an EPA-estimated 22/32 mpg City/Highway with the 7-speed dual-clutch gearbox (20/30 mpg with manual shift). Auto start/stop is standard.
Boxster S features a 3.4-liter engine that produces 315 horsepower and 266 pound-feet of torque. Boxster S cuts about a second off the standard Boxster's estimated 5.5-second 0-to-60 times. With dual-clutch, Boxster S gets an EPA-estimated 21/30 mpg.
The Porsche Boxster is handsome, competent and more fun to drive than the original. If we hadn't seen how far the German maker could go with the latest 911, we might have thought this was the marque's flagship.