2016 Porsche Cayenne Introduction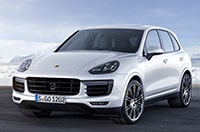 The Porsche Cayenne is a big luxury SUV with impressive handling and performance that ranges from good to quick to powerful, depending on which of six drivetrains is ordered. Cayenne seats five and competes with Range Rover and other luxury vehicles.
Cayenne was freshened for 2015, its powertrains improved, 8-speed Tiptronic S automatics all around, with sleeker styling to look more like the Porsche sports cars. There are no significant changes to the 2016 Cayenne lineup.
Cayenne doesn't look rugged, but it can handle modest off-road requests, while bringing the character of the sports cars to the pavement. The ride might be stiff for some, but there is the optional Porsche Adaptive Suspension Management (PASM), an air suspension that improves handling and ride quality.
The standard Cayenne comes with a 300-horsepower 3.6-liter V6 that can drive the SUV to 60 mph in less than eight seconds, and gets 19/24 mpg City/Highway.
Cayenne S uses a twin-turbocharged version of the V6 engine making 420 horsepower and 406 pound-feet of torque.
Cayenne GTS pumps that engine up to 440 horsepower and 445 pound-feet of torque, while bringing the 0-60 time down to 5.2 seconds and jacking the top speed up to 162 mph. It uses its own exhaust system, air suspension and dampers with a lowered ride height, while borrowing its front bumper and brakes from the Cayenne Turbo.
Cayenne S E-Hybrid is a plug-in hybrid that makes 416 horsepower and 435 foot-pounds of torque from its supercharged 3.0-liter V6 and electric motor. It's quicker than the base model but doesn't get much better mileage, at 21/24 mpg on gas, or 47 MPGe by maxing out the electric power over its full range of 14 miles.
Cayenne Turbo, with its twin-turbocharged 4.8-liter V8 making 520 hp, zooms the SUV from a standing start to 60 in just 4.1 seconds, then on to 173 mph. With that kind of power, fuel mileage sinks to 14/21 mpg City/Highway. But if you can cruise down the freeway with 520 horsepower and get 20 miles per gallon, we'd say that's real fine.
Cayenne Turbo S makes 570 hp, 590 lb-ft of torque, and using all the dynamic aids and chassis systems that are optional with the other models. Cayenne is the best-selling Porsche made, and the money it earns for Porsche goes toward the development of more and better sports cars.