2016 Porsche Macan Introduction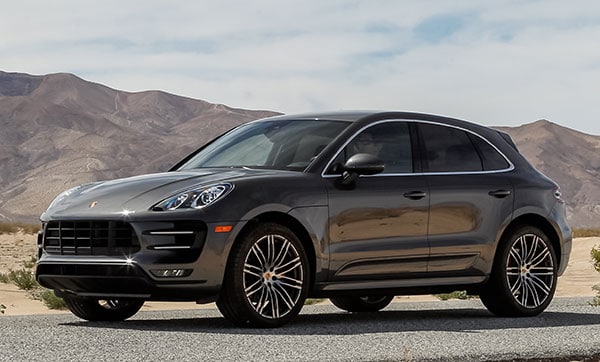 Introduced as a 2015 model and carrying over unchanged for 2016, Porsche Macan technically seats five, but four occupants is more realistic, on a length of 185 inches and wheelbase of 110.5 inches. Families who need a five-passenger vehicle are likely better served by the slightly larger Porsche Cayenne.
The all-wheel-drive Porsche Macan crossover SUV was a success out of the box and is now a close second as the best-selling Porsche, behind the Cayenne.
Macan is based on the Audi Q5, with more room, stronger performance, and better looks, because it takes its styling from the handsome Cayenne. Actually, the base Macan S has stronger performance than the base Cayenne as well.
The standard engine is a 3.0-liter V6 making 340 horsepower and using a 7-speed dual-clutch transmission, able to accelerate from zero to sixty in a swift 5.2 seconds, or 5.0 seconds with the optional Sport Chrono package with its launch control and tighter transmission program. Macan S tops out at 156 miles per hour.
Macan Turbo offers 400 horsepower from a turbocharged 3.6-liter engine to shoot to 60 mph in 4.6 seconds, or 4.4 seconds with Sport Chrono. It will go 164 mph. Even with the bigger engine and more power, Macan Turbo gets the same fuel mileage as the Macan S, with an EPA-estimated 17/23 mpg City/Highway, or 19 mpg Combined.
Under the chassis there's a lot going on to keep the Macan handling quick, tight and stable. Traction control moves the torque from its rear bias to the front when needed for grip, while available torque vectoring moves it from side to side, while the electronic locking differential across the rear axle pinpoints the power. Adaptive dampers and air suspension are available; the suspension lowers the ride height on the highway or raises it off road, where the Macan is quite capable with up to nine inches of ground clearance.
With long lists of options, the Macan buyer should allow plenty of time to carefully choose equipment.
Macan comes with a full array of safety equipment, and options that include lane departure warning, blind-spot monitors, and adaptive cruise control.