2016 Porsche Macan Walk Around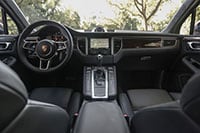 Porsche Macan shares Cayenne's curves and angles, but it looks better because it's shorter with a more dramatic roofline, has sharper sculpting on the side, and scales down Cayenne's massive front intakes to merely extra large.
The headlamps fit into cutouts in the hood, which hangs with a tight finish over the corners. The rear end is simple and spare, while being fast and athletic, with slim LED taillamps on the wraparound tailgate.
There's little to distinguish the Macan Turbo from the Macan S, other than four square exhaust tips instead of four round ones. The mid-level Macan GTS is the most distinctive, with its sporty black trim.
Interior
No doubt from the cabin that Macan is a Porsche, even with the touchscreen, which at least is comprehensible. The ignition is on the left, a Porsche tradition that either started to make running Le Mans starts easier or to save on wiring, depending on whom you believe. The Macan dash is slathered with switchgear, with at least a dozen buttons on each side of the shift lever. There's a bright LCD as well as a high-resolution screen that takes care of secondary controls and redundant gauge information, with the main functions displayed and handled by the regular gauges.
The Macan S uses a simple black and gray, while the upscale trim is aluminum, carbon fiber, or dark walnut, with Alcantara leather bits. There's a never-ending list of higher-priced optional trims.
The standard seats are nice, but the 18-way seats on the Turbo are especially supportive. (We haven't sampled the GTS seats.) The rear bench seat splits in three sections, with the middle being an armrest when there are one or two passengers back there.
The seatbacks fold flat to increase cargo space to 53 cubic feet, and make the Macan a two-seater, dare we say as it should be. Behind the rear seat there's a tidy 17.7 cubic feet.