2016 Porsche Panamera Introduction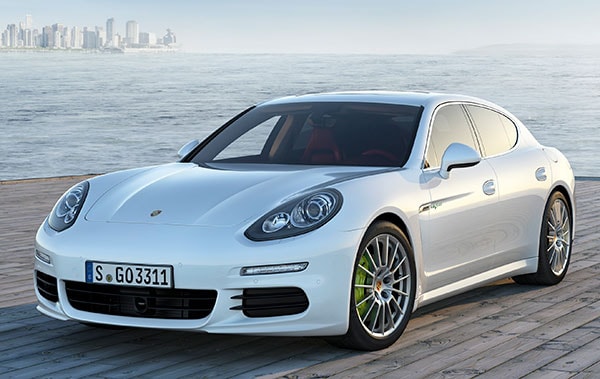 The Porsche Panamera is the closest thing you'll find to the blending of a luxury sedan and big fast sports car. The Panamera has a real back seat, comparable in roominess to the Mercedes-Benz S-Class, to go with its upscale cabin and powerful driving dynamics. Forget your sports sedans, if you want to step on over to the sport side. Also forget your budget.
The Panamera, although face-lifted for 2013, is at the end of its first generation, with a new design scheduled for 2017. So there's not much new in 2016, but there is a new Edition model, with shiny black trim, 19-inch wheels, two-tone leather, and Bose 14-speaker sound system. Also, now available on all models is the Exclusive's rear seat entertainment system, with a 10-inch touchscreen and camera for video calls, as well as WiFi hotspot.
Panamera is fast and its stability at high speeds is superb, but because it's long and heavy, it's not nearly as nimble as a Porsche 911 or Cayman, or even a Cayenne crossover. After all, it weighs more than two tons.
And don't expect a car like this to be without controversy to come with its originality, extending to its shape. It looks enough like a Porsche in front, but the big round rear end, a fat hatchback, is considered ugly by some. When parked next to other luxury sedans, however, it does look distinctive and arguably is the car that most beckons to be driven.
There are different powertrains and wheelbases, from plug-in hybrid to wannabe supercar to fill-in limo, so the Panamera might compete with many different vehicles, for example the Mercedes-Benz S-Class or CLS, the BMW 6 Series Gran Coupe, or even the Aston Martin Rapide or Maserati Quattroporte.
There is the base Panamera, Panamera S, Panamera GTS, Panamera Turbo, and Panamera S E-Hybrid. Panamera 4 and Panamera 4S have available all-wheel drive, while the faster Panamera GTS and Panamera Turbo come standard with all-wheel drive. Panamera S E Hybrid is rear-wheel-drive. Executive models feature a wheelbase that's six inches longer.
A 3.6-liter V6 engine comes standard making 310 horsepower and 295 pound-feet of torque, able to accelerate from zero to sixty miles per hour in a quick 5.7 seconds with the Sport Chrono performance package. The S and 4S models get a turbocharged 3.0-liter V6 making 420 horsepower, and the Panamera Turbo makes 520 hp from its twin-turbo V8, which can push it to sixty in a very quick 3.7 seconds.
The Porsche PDK 7-speed dual-clutch transmissions is standard on all models except the S E-Hybrid, which uses an 8-speed Tiptronic S transmission.
Also standard is Porsche Active Suspension Management (PASM) and Porsche Dynamic Chassis Control (PDCC). The Sport Chrono package is optional; its electronics improve acceleration, handling and safety.
Our choice for enthusiasts is the Panamera GTS, with its strong and sweet-sounding 4.8-liter making 440 horsepower and 384 pound-feet of torque, with all-wheel drive. It handles the best of all the models.
Fuel mileage is decent, with the base Panamera bringing an EPA-estimated 22 miles per gallon Combined with either rear-wheel drive or all-wheel drive. The Panamera S and turbocharged 4S only drop 1 mpg, the long wheelbase drops another, the GTS another, and the Turbo a final 1 mpg drop, to 18 mpg Combined. The stop-start system is standard, in default mode, but it can be de-activated.
The hybrid gets the best mileage, with 50 mpg Combined; in gas-only, it gets 25 mpg. It can recharge from a 240-volt outlet in 2.5 hours, or it's capable of charging the batteries by using gas power.