2017 Porsche 911 Driving Impressions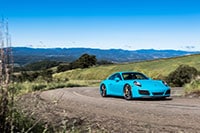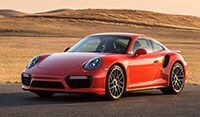 The base twin-turbocharged, 3.0-liter flat six that makes 370 horsepower also brings 331 pound-feet of torque, from 1700 rpm to 5500 rpm, an exceptional range. This flexibility makes it easy to drive around town. The Carrera S that makes 420 hp and brings 368 lb-ft. There is no turbo lag, thanks to a system that keeps the turbos spinning with a small amount of pressure, no more than 2 psi.
The 580-horsepower Turbo S blasts away from a start so fast it's scary. The steering is nicely weighted and natural, as the ratio varies with speed. It stays flat in the corners thanks to active anti-roll bars, as it reaches fantastically high lateral loads without breaking loose on its 20-inch Pirelli P Zero tires. Thank heavens for its good stability control.
The Turbo S is meant for track days, with limits that exceed all drivers except racedrivers. So we strongly suggest finding a driving instructor or coach at the track; they are available from your local club, and usually good; at the least, you'll learn some things you need to know.
For example, the brakes; the standard steel rotors provide a good feel, but the $8500 carbon-ceramic brakes offer so much stopping power that the braking points for corners is deep beyond belief. Our own hot laps were with the guidance of a three-time Le Mans winner, and without him we never would have even approached the limit of braking. The carbon-ceramic brakes reduce fade, also, so you can run consecutive laps without overheating them.
Another option that's great on the track is the Sport Chrono package. For $1920 it adds dynamic engine mounts, launch control in the PDK or rev-matching downshifts in the manual, special stability software, and driving modes that come from the 918 Spyder.