2017 Porsche 911 Introduction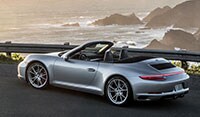 The 2017 Porsche 911 begins a new era with a dramatic change. Remember when the 911 Turbo was basically a supercar? For 2017, it's your basic 911. That's right, the flat six engine now comes only one way, with a twin turbocharger.
Of course, there's your base Porsche Turbo Carrera and your super Porsche Turbo S. Your 370-horsepower version or your 580-horsepower model. The difference between zero to sixty in 4.0 seconds, which is eye-poppingly quick; and zero to sixty in 2.8 seconds, which is unimaginably quick.
In between there's a Carrera S that makes 420 horsepower and does that sprint in 3.7 seconds, in case you're undecided on the issue of hooniganism. A new Sport Response mode is intended for track days, allowing 183 mph for the Carrera and 191 mph for the Carrera S.
But before you run for cover thinking the speed is out of your league, the Carrera only makes 20 more horsepower than it did last year when it was normally aspirated, because the engine has been downsized from 3.4 liters to 3.0. It's really about low-rev acceleration, as the turbo brings all the available torque down to 1700 rpm. So if the tractor on your farm breaks down, you can use your new Porsche, especially if you get it with all-wheel drive.
The standard transmission is a 7-speed manual gearbox, but the 7-speed dual-clutch automatic manual, which Porsche calls PDK and was developed from their racing cars, is available and comes with the higher performance models like the Turbo S. Which remains at 3.8 liters, and whose 580 horsepower is 40 more than last year.
Fuel mileage in the Porsche Turbo is laughable, not because it's low (in fact it's impressive for the power, with the Turbo S mpg higher than a Corvette or Nissan GTR) but because, really, who cares? The base model with the manual transmission gets an EPA-rated 23 miles per gallon Combined. Who cares, true, but it's high enough that you can brag that at least you're not being an environmental hoonigan. From your driveway, point the finger at your neighbor's pickup truck.
As for safety, everyone cares. The 911 hasn't and won't be crash-tested, but it's safe to say that between the structure and standard safety equipment, few worries in a crash. The real issue is how likely you are to crash it, by careless or carried-away driving.