2017 Porsche 911 Walk Around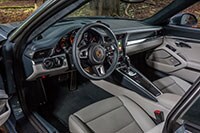 Porsche has been brilliant in keeping alive the upside-down bathtub design from the 1950s, but nowadays the 911 can't compare in beauty to a Jaguar F-Type, to name just one of many gorgeous competitors.
The refresh of the design of the 2017 Porsche 911 is as slight as can be. The most significant exterior change is with the air intakes on the engine hood. It looks wider and lower, thanks to horizontal elements. New boomerang 3D taillamps are taken from the four-seat Porsche Panamera.
Interior
The cabin in the base Carrera offers an instrument cluster that might be seen as classic Porsche, with a tachometer that dominates; but the panel is modernized by a 4.6-inch multi-function display that's bright and informative. Even more modern, there's a standard 6.5-inch touchscreen with Apple CarPlay, navigation, and Bluetooth. Other standard features include a rearview camera, power seats, eight-speaker sound system, and Alcantara headliner. For $695 you can get the panel swathed in carbon-fiber or brushed aluminum.
The fit and finish is excellent, but there's very little storage, with small door pockets and not much room in the center console bin. The trunk in front is surprisingly roomy, but still only suited for soft luggage like duffels.
The front seats are comfortable, supportive, and provide good legroom. The 911 is technically called a 2+2, so there are rear seats, sort of, but for realistic purposes they are to fold down and use for small gear bags or parcels. There is zero legroom in the rear.
It's relatively quiet in the cabin, although the 3.8-liter engine makes more noise than the 3.0-liter.