2017 Porsche Cayenne Introduction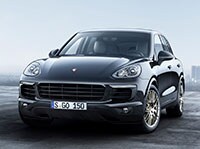 The Porsche Cayenne SUV is a large crossover, crossing over into the world of Porsche Turbo sports cars. It isn't rugged, but it is deft off road. All-wheel drive is standard. It most closely competes with the full-size Range Rover.
This is the second generation of the Cayenne, launched as a 2011 model, so it's a bit long in the tooth. The 2017 Cayenne gets the latest version of Porsche Communication Management infotainment system as standard equipment. And the 2017 Porsche Cayenne lineup adds a new Platinum Edition package for the base and S E-Hybrid models.
Cayenne comes in six variations: The base Cayenne comes with a 3.6-liter V6 making 300 horsepower, capable of accelerating from zero to sixty in less than 7.3 seconds, according to Porsche, and is rated by the EPA for 18/24/20 miles per gallon City/Highway/Combined on Premium gasoline.
Also available is the 2017 Platinum Edition.
The Cayenne S model puts a twin turbo on that engine to make 420 horsepower, for 0-60 in 5.2 seconds, or 5.1 with the Sport Chrono option, and 17/24/20 mpg.
The GTS model twists up the boost to get 440 horsepower and 445 pound-feet of torque out of that twin-turbo V6, to get a zero-to-sixty time of 4.9 seconds, quite quick.
The Cayenne Turbo is a twin-turbocharged 4.8-liter V8 making 520 horsepower and hitting sixty mph from zero in a very quick 4.1 seconds. You want faster? The Turbo S makes 570 horsepower from that engine, and will go about 180 miles an hour.
Even the S E-Hybrid gets 416 hp from its supercharged 3.0-liter V6 mated with an electric motor for 0-60 in 5.4 seconds, along with an EPA rating of 47 MPGe with 14 miles of all-electric range.
The Cayenne won't be crash-tested, because it's low volume and high cost.