2018 Porsche 911 Introduction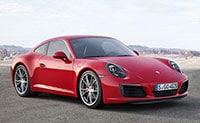 There are well over a dozen models of Porsche 911, including all-wheel drive and cabriolet versions. Among them: Carrera, Carrera S, Carrera T, GTS, Turbo, Turbo S, GT3, and GT2 RS.
New for 2018, the Porsche 911 GT2 RS is said to be the fastest 911 ever for the road. There is also a GT3 version, and a Turbo S Exclusive option. The new GTS and Carrera T come stripped of comfort and convenience features to feel more like a wind-in-the-hair sports car. The Turbo S Exclusive has exclusive uber-power.
The engine in the Carrera is a 3.0-liter twin-turbocharged horizontally opposed six-cylinder making 370 horsepower. In the Carrera S, this engine is turbo-boosted to 420 horsepower, and in the Carrera GTS, 450 horsepower.
The 911 Turbo uses a 3.8-liter turbocharged flat-6 making 580 horsepower for breathtaking performance.
A standard 911 Carrera can accelerate from zero to sixty in a very quick 4.0 seconds, while the Carrera S does it three-tenths quicker. That's with Porsche's brilliant twin-clutch automatic manual transmission, called the PDK. Carrera 4 includes all-wheel drive, making for an outstanding high-speed sports commuter.
The Turbo and Turbo S are grand touring cars, able to blast from zero to sixty in less than three seconds, while being comfortable driving long distances.
The new Carrera GTS gets 450 horsepower from its turbocharged flat-six, with an active exhaust system and thin sound deadening, to give the flat-six some song. As sporty as it sounds, the Carrera GTS comes with a 7-speed manual gearbox.
The new Carrera T has the same idea: no rear seats and no radio (for more money). With 370 horsepower and the same manual transmission, it's about light weight and agility.
The GT3, GT3 RS, and GT2 RS are ready for the track, with their non-turbo 3.8-liter flat-six engines. At about $300,000, the GT2 RS is a steal, being as fast as million-dollar supercars. For about $200,000, the GT3 RS is the quintessential track day car, our favorite, along with the GT3.
The Carrera with manual transmission is rated by the EPA at 20/29/23 miles per gallon. The GTS with its more powerful engine gets the same 23 mpg Combined. The 911 Turbo and Turbo S models get 19/24/21 mpg. Without a turbo, the GT3 is thirstiest, at 16 miles per gallon.