2018 Porsche Boxster Introduction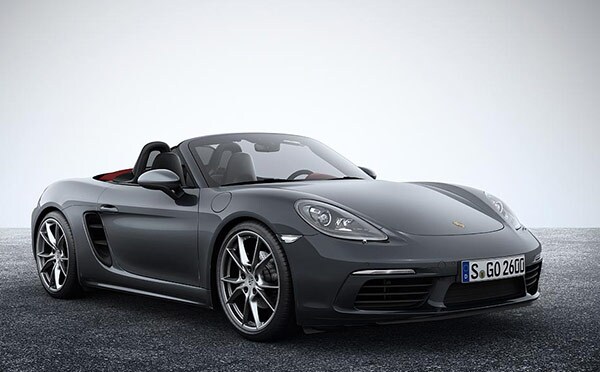 The Porsche Boxster was lightly redesigned and renamed the 718 Boxster last year, with a new four-cylinder turbo engine replacing the normally aspirated flat-six, wider wheels with bigger brakes, and styling changes that made it look sharper and more muscular.
The 2018 Boxster lineup adds a new model with a bit more horsepower, the GTS, which comes with adaptive dampers, torque vectoring, sport exhaust, 20-inch wheels, synthetic suede or leather seats, and a thick steering wheel borrowed from the Porsche 918 with a mode selector that makes you feel like Lewis Hamilton.
The standard mid-mounted engine is a 2.0-liter turbocharged flat-four making 300 horsepower and 280 pound-feet of torque. The S version is 2.5 liters, and makes 350 horsepower and 309 pound-feet. The new GTS makes 365 horsepower and 317 pound-feet. The 2.0-liter can accelerate from zero to sixty in 4.9 seconds, while the S chops that down to 4.4 seconds, and the GTS brings the time down to 3.9 seconds.
The standard six-speed manual gearbox is sharp, while the seven-speed twin-clutch automatic manual is just as sharp but quicker. It's Porsche's racing-bred PDK transmission.
The standard suspension is good but the available adaptive dampers are better. Available torque vectoring makes the 718 one of the best-handling cars in the world.
The interior boasts beautiful leather and a multi-buttoned layout. There isn't a lot of room inside but there's a power convertible top to compensate.
The 2.0-liter engine is EPA rated at 22 miles per gallon city, 29 highway, and 25 combined with the automatic transmission, and 1 less mpg with the manual. The 2.5-liter S versions get 24 combined with the automatic, and 22 combined with the manual. The GTS gets 22 combined with the automatic, and 21 with the manual. That's 5 mpg less than one rival, the Mercedes-Benz SLC-Class. The SLC also offers a turbocharged six-cylinder that gets about the same mileage as the turbo four in the Boxster.
The Boxster comes with a full complement of airbags, including front, side, and thorax. Automatic emergency braking, adaptive cruise control, active lane control and blind-spot monitors, are not available.