2018 Porsche Macan Introduction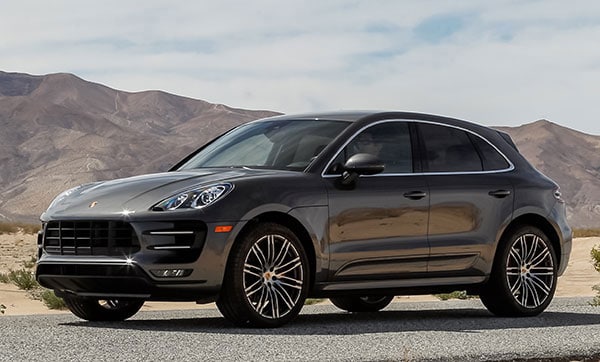 The Porsche Macan crossover is the best-selling Porsche. It's based on the Audi Q5, but it's longer, wider, and lower, so it's roomier. It looks like the Porsche Cayenne, but it's six inches shorter on a wheelbase that's 3.5 inches smaller. It technically seats five but realistically only four adults, as that center rear passenger must be very small, and even then won't be happy.
The entry-level Macan uses a 2.0-liter turbocharged four-cylinder engine making 252 horsepower and a strong 273 pound-feet of torque. It can accelerate from zero to sixty in 6.1 seconds and reach 142 miles per hour.
The Macan S uses a 3.0-liter V6 making 340 horsepower; it can hit sixty in 5.0 seconds and reach 156 mph. The Macan GTS was new for 2017; it's a high-performance version that takes the V6 and raises the horsepower to 360. It will do zero to sixty in 4.8 seconds and reach 159 miles per hour. Last but not least is the Macan Turbo, with 3.6 liters and a zero-to-sixty time of 4.4 seconds, top speed 164.
Every model is all-wheel drive with a bias toward the rear, and uses Porsche's race-bred 7-speed dual-clutch automatic manual transmission.
The only new feature for 2018 is an embedded SIM card.
Fuel mileage for the base model is an EPA-estimated 20 miles per gallon City, 25 Highway and 22 Combined, which is low for a 2.0-liter four. In the Macan S and Macan Turbo it goes down to 17 miles per gallon City, 23 Highway, and 19 Combined, about the same as the Audi SQ5.